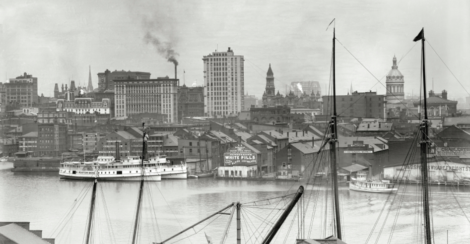 Date/Time
Date(s) - 09/24/2016
10:00 am - 12:00 pm
Location
Baltimore Federal Courthouse
Categories No Categories
THE DOWNTOWN BALTIMORE YOU NEVER KNEW:
HISTORY, ARCHITECTURE, & FILM!
This two-hour walking tour by YAAM member Jefferson Gray ('78), will cover a rectangular section of downtown between Lombard Street on the south, Lexington on the north, Eutaw on the west, and South Street on the east.  You will learn about Baltimore from its earliest days, through the Civil War, the labor unrest of the Gilded Age, the Great Fire of 1904, and the start of the Civil Rights movement.  Along the way, you will see where Captain John Smith explored, the Continental Congress met, Francis Scott Key composed The Star-Spangled Banner, Abraham Lincoln evaded assassins, German agents plotted acts of sabotage during the First World War, Thurgood Marshall practiced law, and George Washington, John Adams, the Marquis de Lafayette, and Woodrow Wilson slept!  The tour will also include notes on downtown architecture and will point out filming locations from various movies and television shows.      
The meeting point will be the colorful and abstract Jules Sugarman sculpture on the grounds of Baltimore's Federal Courthouse at 101 W. Lombard Street, at the corner of Lombard and Hanover – one block north of the Convention Center.  Parking is available at many garages nearby, including that for the Baltimore Arena and the Down Under garage on Lombard Street, which is directly across from the meeting place.